BARS • RESTAURANTS • GROCERY STORES • HOTELS • LIQUOR STORES • BREWERIES • WINERIES • DISTILLERIES • WHOLESALE • IMPORT • CORPORATE CHANGES • DISCIPLINARY MATTERS • ALTERATION APPLICATIONS • SERVICES FOR ATTORNEYS • FEDERAL PERMITS FOR BEVERAGE ALCOHOL MANUFACTURERS & DISTRIBUTORS • CORP/LLC FORMATION • DBA CERTIFICATES • MUCH MORE
About Us
My story begins in the wee hours of a cold December night about 10 years ago. I was awakened by a call from an employee of a bar I owned and managed across the street from my apartment in New York. "You better come down. The police snuck a minor in and now they're arresting the bartenders," the employee told me. Six months and $3,000 in fines later, I started helping other bar owners deal with the vast bureaucracy known as the NYS Liquor Authority.
I helped them with violations, which led to helping with renewals and corporate change applications. Then they were asking me to file new applications for them. "Why not?" I said. "It can't be that hard." Well, it was – for a year or two anyway. I wasn't getting to my bar until 7 pm or later because my phone was constantly ringing with new work. I had to make a decision. So, I sold my bar.
Fast forward to now. Since I began representing applicants and licensees full time, I have handled over 1,000 licensing matters and appear regularly before the Members of the NYS Liquor Authority as an advocate for my clients.
My background in journalism (25 years) and hands-on experience as a bar owner were the perfect ingredients to make me an effective liquor license specialist.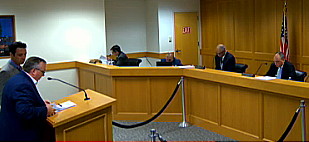 I am constantly researching, writing and asking questions to make me better at what I do. Recently, I began taking on more federal work – applications for beverage alcohol manufacturers and distributors to the US Treasury Department's Alcohol and Tobacco Tax and Trade Bureau (TTB).
If you need help or advice about your NYS or federal applications, call me anytime. All calls are returned within 12 hours. – John Springer
Our Blog